Restorative Yoga Series
Friday Evenings: 7.15 - 8.30pm
March 22nd
April 5th
April 26th
Restorative Yoga is a very relaxed form of Yoga.
 Great to gently relax and lengthen tight muscles, loosen stiff joints, as well as calming the mind. Using blocks, blankets and cushions to support the body, Restorative Yoga explores a range of passive poses in which you rest for 3-4 minutes enabling your body to unwind. 
 This series of Three Restorative Yoga Workshops will encourage relaxation of the body and mind through self-massage, supported yoga postures (using all the comfy props!) and ending with a guided meditation. 
 Each Session will focus on a different layer of your body: Skin, Muscle and Bone.
Sound Bath Therapy Dates
Struggle to relax, often feel stressed, anxious or overwhelmed? Then Sound Bath Therapy could be the best thing for you!
A guided meditation with Adrienne using a unique sequence of specialist instruments to take you into a deep state of relaxation and calm.
A prefect way to relax both body and mind 🙂
Upcoming dates:
To book or find out more...
Contact Emma on info@mycorewellbeing.com or 01287 349643.
Sun Power Yoga: 2 Hour Special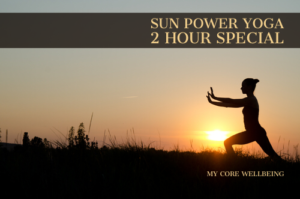 This extended two hour Classes is a perfect opportunity to explore deeper into your Practice. A Dynamic Vinyasa Style Class, that will explore sun salutations, varied postures, breathe works and Savasana.
Saturday 6th April 9-11am
Saturday 4th May 9-11am
To book : 01287 349643, or info@mycorewellbeing.com
Ashtanga Yoga WorkShop
A 2 Hour Workshop composed of meditation, intention setting, Yoga Techniques, a dynamic yoga practice, pair work and a generous relaxation. (Everyone's favourite part!)
Within the workshop we will look closely at optimum technique and alignment of each Element that make up Sun Salutations. By applying these techniques we can create a great sense of flow within our practice and ourselves.
Saturday 13th April 9 - 11am
Saturday 27th April 9 - 11am
To Book: 01287 349643 or info@mycorewellbeing.com
Stand Up Paddle boarding (SUP) and SUP Yoga!
Over the Summer month we venture outside with SUP Adventures and enjoy the great outdoor with Stand Up Paddle Boarding mornings and SUP Yoga.
To register your interest please message Emma in the office and we'll be first to know once our Summer 2019 dates our confirmed.