Health and Wellbeing Classes
My Core Wellbeing brings to you a range of Health and Wellbeing Classes for you to choose from to help keep you active, mobile and feeling great for years to come. The classes are predominately led by Physiotherapists, or by brilliant instructors supported by physiotherapists to giving you the peace of mind your in safe hands. So if you are wanting to keep healthy and happy in both Body and Mind for years to come, then get in touch!
Please note booking for all classes is essential. Thank You 🙂
Please note the following timetable changes affecting the week commencing 6th May.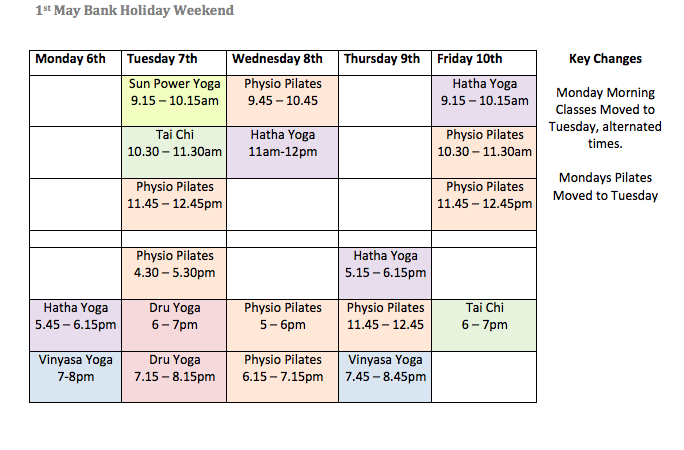 A Little More About The Classes...
Physio Pilates - Take the 'best bits' of Pilates, and put it together with a combination of the most effective exercises Sammy prescribes from the treatment room. A well rounded class combining strength, movement, balance and co-ordination. Everything you're body needs to help keep you injury free and healthy for your future.
Hatha Yoga - Great for beginners. A relatively gentle form of Yoga touching on all the key elements of movement, strength and mindfulness. For those wanting to feel more relaxed and stronger in both body and mind.
Dru Yoga - Our most gentle form of Yoga and another great starting point for beginners. Due to is flowing nature it's often described by clients as a Yoga with a Thai Chi feel.
Vinyasa Flow Yoga - Our more challenging form of Yoga. Incorporates a greater element of strengthening and gentle cardio for  those you enjoy a 'workout' with their yoga.
Sun Power Yoga - A beautiful combination of relaxation, breath work and heating flowing postures to a backdrop of uplifting music. The union of breath, body and mind in this way leaves you feeling both energised and refreshed. Suitable for beginner with reasonable mobility/no injuries.
Tai Chi / QiGong - QiGong, a healing form of Tai Chi. With brilliant instructor Nicky she take you through fantastic QiGong movements to help keep you strong and moving, along with balanced and centred. Easily adaptable to suit all abilities.
"I'd like to book my place, or find out a little more"